---
2023 KBPA CHRISTMAS PARADE
Thursday, December 7, 2023 – 6:00pm
East on Waialae from the entrance to Chaminade to Koko Head Avenue along the eastbound lanes of Waialae Avenue. (Traffic will be contra flowed in the westbound lanes.)
Grand Marshall: Kaimuki Christian Church
KBPA is pleased to announce that the 2023 Kaimuki Christmas Parade Grand Marshall is the Kaimuki Christian Church. In celebration of the 100th anniversary of the church in Kaimuki, we applaud the long history of Kaimuki Christmas Church serving the community, from keiki to kupuna. Beginning as a Sunday School outreach in the Kaimuki neighborhood in 1909, Kaimuki Community Church was organized as a church in 1923. In 1968, Kaimuki Christian School was added to Kaimuki Christian Church's ministry in east Honolulu. The church also actively supports people in need, from the homeless to children and seniors.
PARTICIPANT INFORMATION
Registration is now closed for the 2023 parade. If you have already registered and paid your fees, a reminder that you are urged to attend an informational Zoom meeting that will be held on November 29th. Details below.
ZOOM MEETING
Wednesday, November 29 – 6pm
Join Zoom Meeting
https://us02web.zoom.us/j/86563052030?pwd=bG5ucGRxQWEzOGdRL0FSYnVZci9mUT09
Meeting ID: 865 6305 2030
Passcode: 589657
PARTICIPANT WAIVER
All participants must read and sign the Hold Harmless Waiver prior to participation. Participating groups and organizations should have their participants complete the form and submit as a group via email attachment (preferred) or in person on the day of the parade. Please do not have individuals email the form to KBPA.
STAGING MAP
CLICK HERE TO DOWNLOAD THE STAGING AREA MAP
VOLUNTEERS
If you would like to be a volunteer at the parade, please click here for the Volunteer Application Form. We need more volunteers along the parade route, at the Chaminade staging area, and at the end of the parade.
PARTICIPATING?
Be sure to fill out a Parade Unit Description Form. This is the information we will use for publicity, including what the emcees say about your unit on the television coverage.
DOWNLOAD UNIT DESCRIPTION FORM HERE
KAIMUKI PARK CLEAN-UP
A huge success! Thanks to Honolulu Parks & Recreation and all of the KBPA members and volunteers to helped clean, paint, rake, sweep and tidy-up Kaimuki Park on Saturday morning, July 29, 2023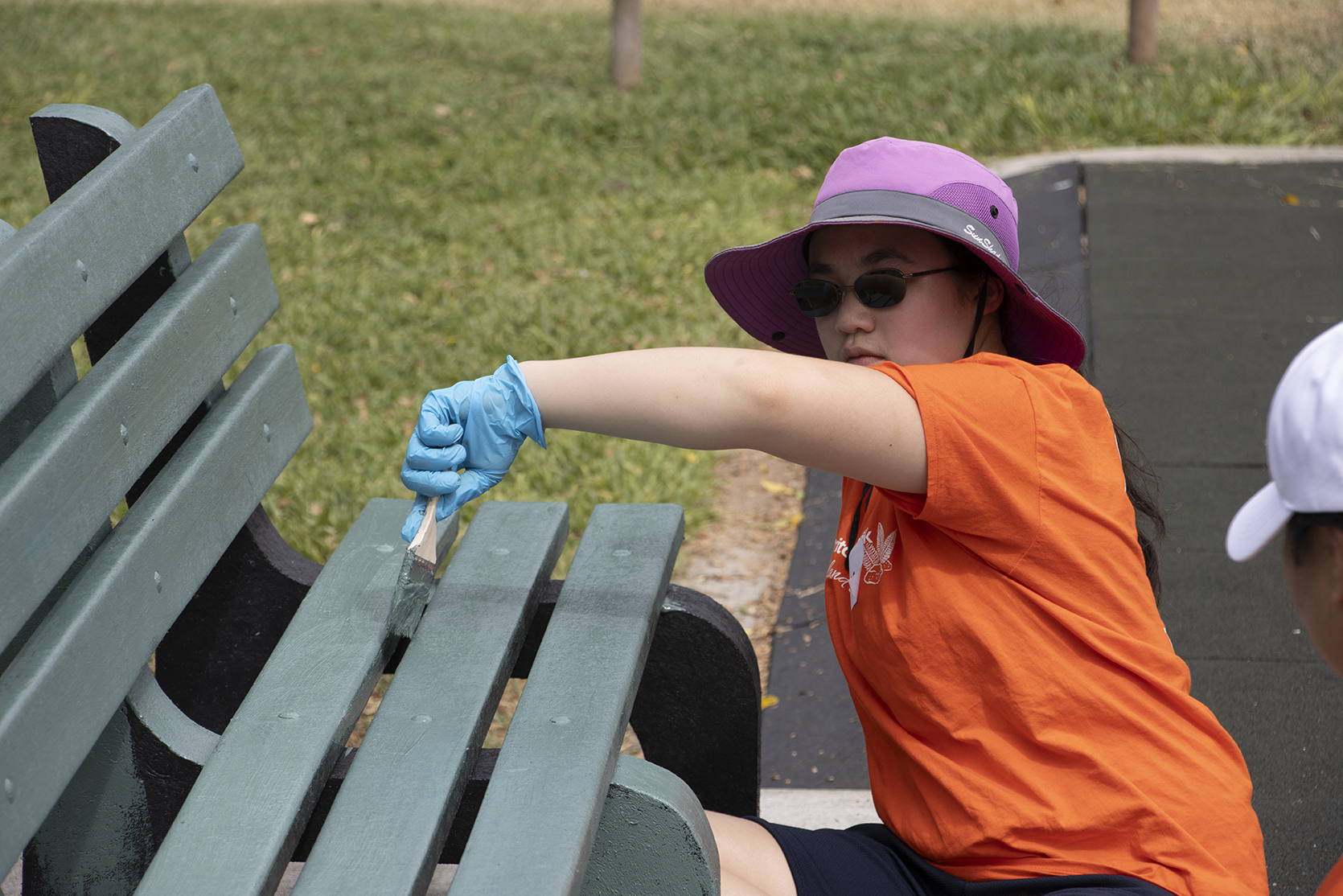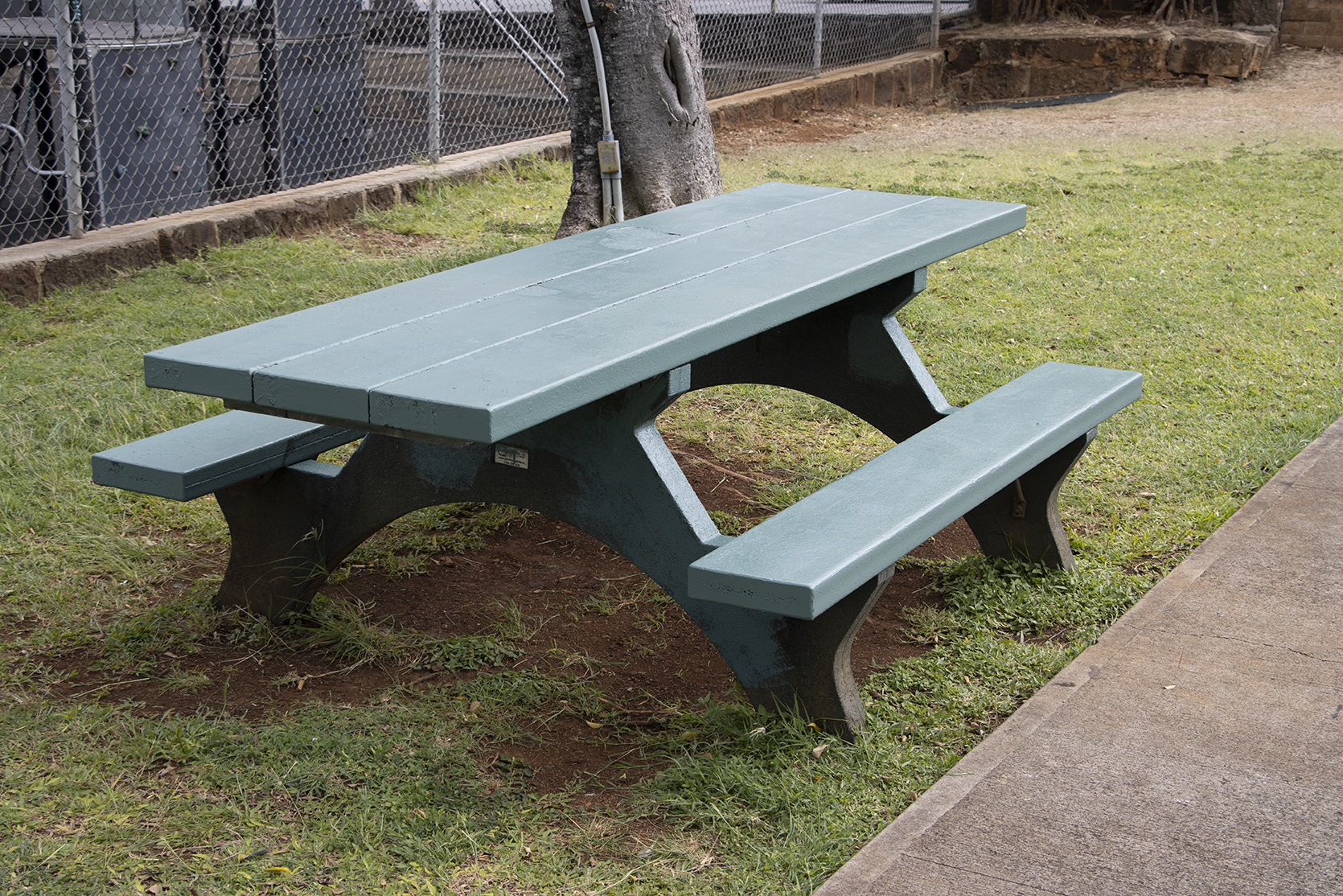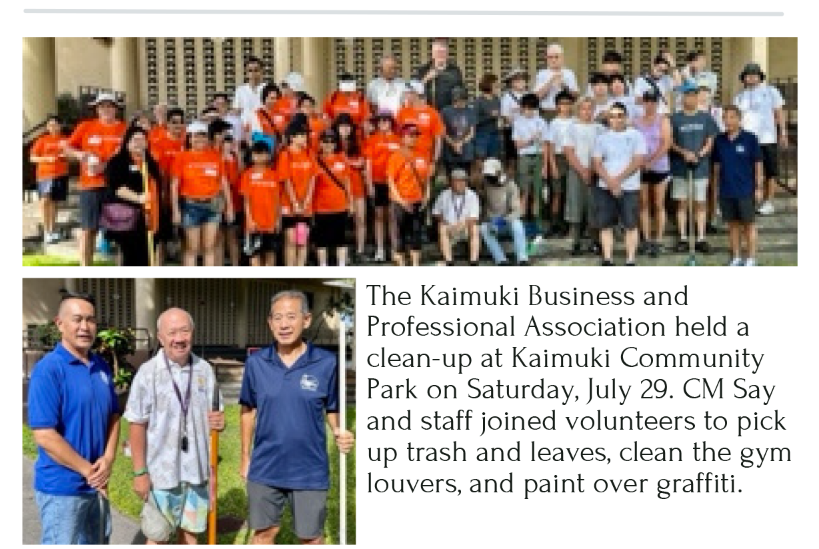 Honolulu City Councilman Calvin Say was among the volunteers to helped clean Kaimuki Park. Mahalo, Councilman Say!
(Left: From his August newsletter)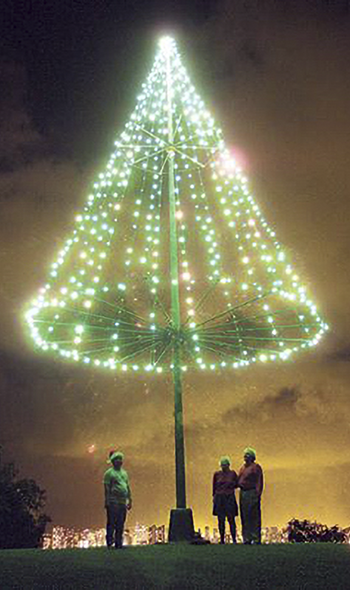 PU'U O KAIMUKI CHRISTMAS TREE
The tree is illuminated nightly through the holiday season and can be seen from much of Honolulu. Our appreciation goes to the volunteers of Hawaiian Electric, who donate their time and equipment to maintain the lights and structure.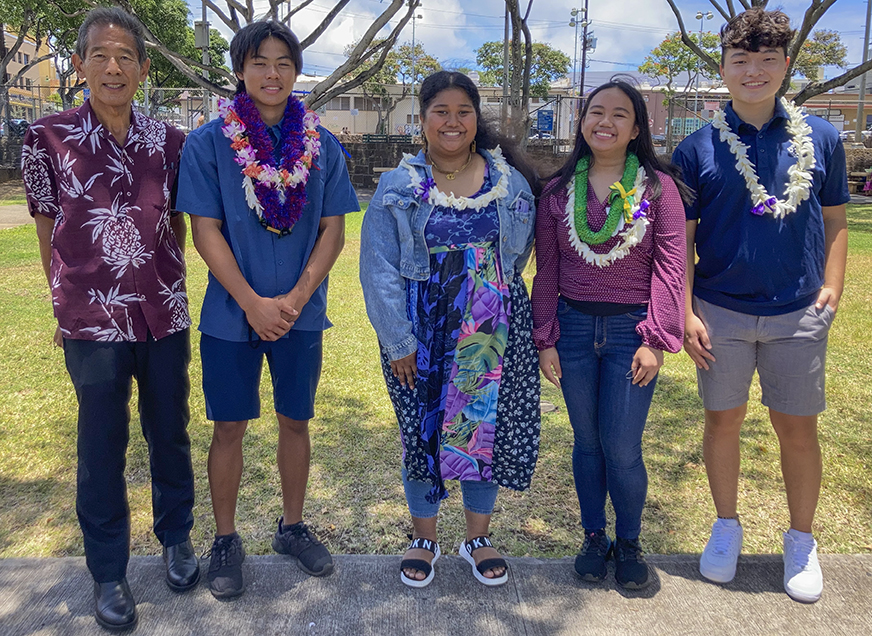 KBPA FOUNDATION SCHOLARSHIP PROGRAM
Every year the KBPA Foundation selects top high school seniors from Kaimuki schools to receive scholarships: Kaimuki Christian, Kaimuki High, Sacred Hearts Academy and St. Louis High School. KBPA believes in supporting our local youth who will be the future leaders of our community. Through an application and interview process, one student from each of the schools is selected to receive the KBPA Foundation Scholarship. Our congratulations go out to the 2021 honorees.
The 2021 KBPA Scholarship recipients are:
Valor Ahn – Kaimuki Christian School
Rae Anelic Dalinoc – Kaimuki High School
Yokiko Techuo – Sacred Hearts Academy
Noah Chun – Saint Louis High School
(Click on photo to enlarge)