KAIMUKI BUSINESS & PROFESSIONAL ASSOCIATION
For over 75 years, the Kaimuki Business and Professional Association has been bringing the Kaimuki community together for events, information dissemination and advocacy. We strive to connect the business community with residents and make Kaimuki a neighborhood that's not only successful for business but also friendly and safe for families. We are fully aware of Kaimuki's legacy in Honolulu and our place as one of the foremost and distinct neighborhoods on Oahu. We invite you to check out our website and see what's happening in Kaimuki and how you can become involved!
If you would like to attend a meeting, we'd love to have you! Contact us here.
MEETING INFORMATION
The Kaimuki Business and Professional Association (KBPA) is starting the new year (July 1, 2023 to June 30, 2024) and is pleased to announce that Mahlon Moore will serve as President.

The next KBPA meeting will be held on Wednesday, September 13, 2023, 11:30am at KOKO HEAD CAFE. Due to limited seating, RSVPs are MANDATORY. You can RSVP HERE.

Free free to contact KBPA at email info@kbpahawaii.com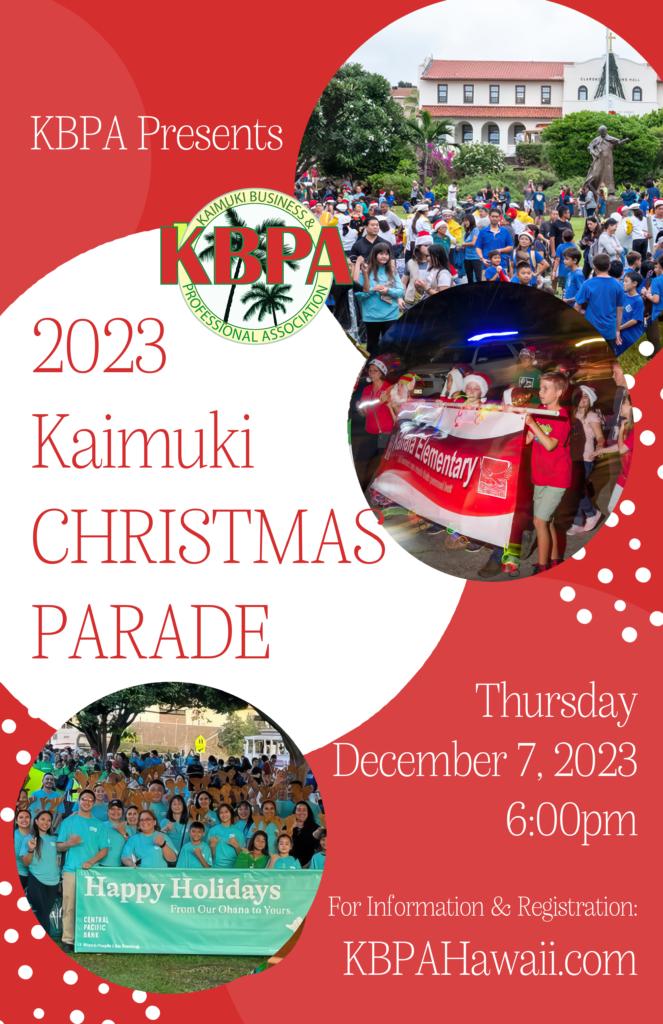 2023 KAIMUKI CHRISTMAS PARADE
We are happy to announced that the 2023 Kaimuki Christmas Parade will take place on Thursday, December 7th starting at 6:00pm. It will go east on Waialae from the entrance to Chaminade to Koko Head Avenue.
Registration is now underway! CLICK HERE TO REGISTER.
Prior to the parade, we will have an information Zoom meeting to provide the latest information and answer your questions. Details to come.
All parade participants will be required to sign a waiver, which will be provided to you after registration is confirmed.